Auckland Interior Tiling
Book a FREE Quote Today for Your Interior Tiling Work
If you are looking for a stylish, versatile and lasting surface that you can customize to your unique taste and home decor, there is nothing like interior tiles.
Interior Tiles offer a strong and durable surface that will never fade and resistant staining, expansion and other stresses that traditional surfaces like carpet, vinyl and wooden flooring cannot withstand.
If you spill a glass of wine on your interior tiles, a simple wipe with a cloth will remove the liquid without staining whereas if you did the same on a carpet, you'd be facing a hefty cleaning bill from a professional carpet cleaning company.
 The versatility of tiles is truly limitless as the range available today is large enough to accommodate even the most eccentric of tastes and interior colour palettes.
On top of the large variety of colours, designs and patterns available, tiles also come in various materials to help achieve a certain feel in your home or commercial property.
From natural stones that promote a soft and classical feel to modern day large format porcelain tiles that scream chic and simplicity, you can set the scene of your room with the tile choice alone.
The type of tile can also be adapted to suit the lifestyle and purpose of the room.
 A busy home or commercial building would best suit a porcelain tile that can withstand heavy traffic, staining and impacts without breaking or chipping.
Porcelain tiles also have virtually zero water absorption at about 00.1% so they are ideal for bathrooms and any other wet areas. Zero water absorption also means no smells from sitting water that has penetrated the tile.
If you are thinking of getting your interior tiling done in your residential or commercial property, JB Tiling can provide a free tile consultation with your quote to ensure you choose the best tile for your interior.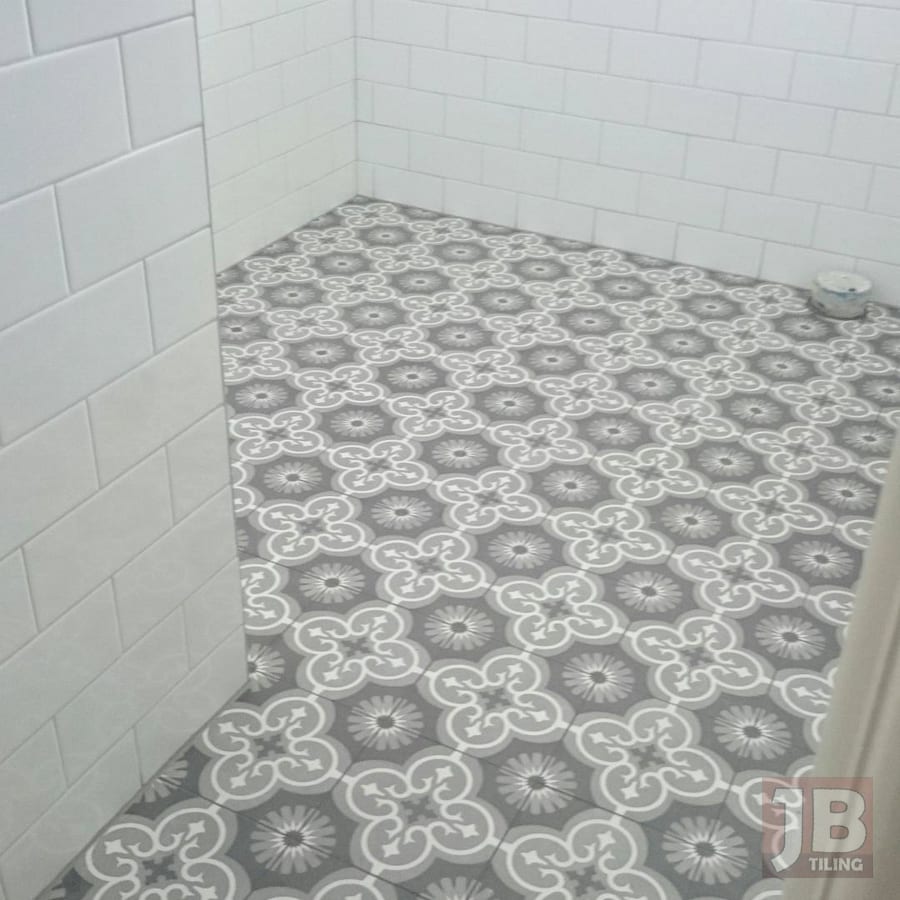 There is no need to hire an interior designer to select a tile as we have been working with tiles for over 25 years and have laid them in virtually every area imaginable. 
We know the current trends, the best tiles and understand which type of tiles would work the best for you.
Since we make no commisions in tile supply (unlike interior designers and tile shops) we provide an unbiased opinion on which tile is for you.
Our aim is to provide you with a beautifully tiled surface that not only will you love, but also withstand the daily pressures of life and be able to withstand them for many years to come. 
After you have selected a tile for your interior, we will get to work to prepare the surface to accept tile and ensure it's suitable for it's use.
From supplying and laying tile underlay to pouring levelling compound, laying a screed bed to full interior waterproofing in any wet room.
JB Tiling can provide a full tile surface preparation according to New Zealand specifications and supply a producer statement that complies with Auckland City Council regulations for any interior waterproofing work.
We are qualified and registered waterproofers so you can be sure your wet room will not leak.
Aside from waterproofing, we will tile your interior walls or floors according to code using only the best tiling materials suitable for New Zealand conditions. 
The JB Tiling Difference.
JB Tiling has been tiling Auckland homes and businesses for 25 years and has built a solid reputation for providing a reliable and trustworthy tiling service.
With a business solely dependent on word of mouth and repeat customers, we take pride that every interior tiling job we do is of the best quality.
To build up a reputation that ensures repeat custom from trusted Auckland builders and tile-loving homeowners required a lot of hard work and providing a tiling service that's second to none.
It's safe to say we have achieved this and if you hire us for your next interior tiling project, you'll see why.
Our pricing scheme is based on the work done not hours spent so you can be assured of a hardworking and dedicated team that will work diligently to get your tiling project completed as fast as possible.
In fast pace new home builds and time-critical renovations like homes with only one bathroom or businesses that need to shut down operations, this is a factor that sets JB Tiling apart from others.
We will not see us taking breaks or leaving the site to buy lunch if there's a deadline to meet, just sit back and watch a team of experienced tilers assemble a masterpiece in front of your very eyes. 
When your interior tiling is done and the adhesive is cured, we will return to apply grout and silicone where needed.
We have found the best products available in New Zealand that provide a consistent colour and are more resistant to mould and other contaminants to help with your tile maintenance. 
If you require any advice or tile cleaning tips please feel free to ask.
We know the in's and out's of tile cleaning and will be happy to share that knowledge with you so that your tiles and grout will remain and beautiful for years to come.
Only a basic cleaning routine will ensure a finish that will look like the day it was tiled.
I Need My Interior Tiled – How Do I Begin?
If you are wanting professional, on time and dependable Auckland tilers, then look no further than JB Tiling.
From tiling your floors to walls in any area of your Auckland home or business, we can provide a finish that you will be proud of.
Get in touch today to organize a free quote and I will get back to you as soon as I can.
We are more than just West Auckland Interior Tiling, with our service area extending to the North Shore, Central Auckland and South Auckland.
Your beautiful interior tiling awaits, only one phone call/email gets the ball rolling.
Over 25 years tiling houses in Auckland and the North Shore. For all your interior/exterior residential and commercial tiling and waterproofing needs contact JB Tiling today.